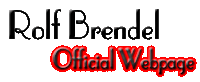 Rolf Brendel, a drummer and a songwriter, was born in Hagen on June 13th, 1957.
He has a younger sister Brigitte (2 years younger) who lives in Berlin and an older brother Dietmar (9 years older) who lives in Hagen.
Rolf was married before he met Nena in '79. He has a daughter, Verena, (today 22/23 years old) with his ex-wife. The marriage ended around '79 when he met Nena. He had a relationship with her which lasted for 8 years. They were living together but never got married. After Nena and Rolf split, January '87, Rolf start dating Maria who was working with the management of the band.
Rolf then moved to Los Angeles for a year to go to the Porcaro drumming school which is ran by 2 brothers from the band Toto. He went back to Berlin and continued playing and touring with different bands.
Here is a link to a '98 article about Rolf, which is of course in German and I hope you guys can understand it. I need to get my "German" back to work! Also this band was Carlo's band in the 70's before he joined Nena.