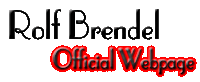 To see the slide show wait for the page to fully upload!
News as 9/02/02: In Germany there is a big flood, for some weeks now, and a lot of people lost their homes.
This flood is the biggest of the century. Marlon and some very successful and famous people in Germany like Peter Maffay, Udo Lindenberg, Nena, Kim, and Rolf (the singer of Söhne Mannheims), are collecting money for the victims by realeasing Marlons single 'Lieber Gott' which will be out Monday, and all these artists sang on it. It's like 'Band Aid' type of thing.
So everybody out there, make sure you get this new single to help collecting money for the victims of this foold.
News as 6/14/02: Rolf has been managing this new talent in the last month. Check the project page to know more about it!
News as 7/24/01: Well, I can't say much on Rolf yet but keep checking the site for his latest news.
News as 7/13/01: During the Nena concert in Potsdam (on July 13), Nena invited Rolf to play the drums
for the song "?".

Keep on checking because on 6/15/01 Rolf posted on the message board, so pretty soon I will get new infos on what he is doing lately. Sorry I had to delete the message. Rolf asked me to because he was receiving too many emails, so he felt it was better to delete the message.
Click here to see what Rolf is up to these days
If you have any comments, questions or suggestion please email the webmaster